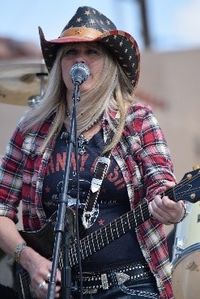 Mary White is the lead singer, songwriter and musician for Magnolia Drawl as well as the producer and engineer of their first CD released in April 2018.  Mary is a true entertainer and brings her infectious energy to every show.   Besides singing and playing the guitar on most songs she also likes to pick up her sax and jump off the stage to join the crowd on the dance floor.  Her soulful southern voice brings a special sound to not only her original songs but the many diverse cover songs played by Magnolia Drawl. 
Mary grew up in a musical family in Longview, Texas and started singing with her mother at festivals and in church.  She moved to Los Angeles to pursue a musical career and began performing at local clubs, festivals and coffeehouses.  As a songwriter, Mary has written more than 300 songs that are a mixture of country, rhythm & blues and rock that will draw you in and leave you wanting more.  Her music is a smooth combination of intensity, wisdom and insightfulness created by her exceptional songwriting and passionate vocals.  On stage, she's pure energy and sings with a smile in her voice.   One of her original songs "California Cowgirl" from the recently released Magnolia Drawl CD Try A Little Harder has received radio play on several radio stations in Southern California.  Another of her originals "Take Me Back to Oklahoma" received radio play and was featured in the HBO movie "The Gristle".  She has also had a song included in the movie "Elvis had left the building" starring Tom Hanks, John Corbett & Kim Bassinger as well as producing & engineering three songs in the HBO series "Togetherness".   
Mary has had the great opportunity to entertain her fans across the southwest playing many different venues from bars to dance halls to festivals.  She was especially thrilled to be selected by the United States Armed Forces MWR to tour South Korea and Guantanamo Bay, Cuba to entertain the troops since her father served in the Air Force.  She's well regarded by her musical peers and has a strong fan base that follows her across the southland to party the night away.
Mary currently lives in the Los Angeles area, writing and performing locally. She is the owner of a successful recording studio, QP Sound, producing and engineering numerous artists and CD's. If you enjoy great music, energy you can't contain and songs from the heart, you will want to play her CD or better yet catch her live; you'll be amazed at what this girl can do.